Lakewell develops, manufactures and markets premium quality interior components for classic cars. Our handcrafted products are among the best available for originality and fit.
Our mission is to match the Original Equipment Manufacturer specifications in all our parts. We go great lengths to source the correct raw materials. We have researched original cutting, sewing, pressing and molding procedures to ensure factory authentic craftsmanship. We have a passion for efficiency and lean make-to-order manufacturing. We challenge everything we do on the direct value it adds to our products and customers. This is the foundation on which we provide the best price quality offer in the market .
We manufacture our interior components in Boutersem, Belgium (15 minutes East of Brussels). We are located in large restored 18th century square farm house. The different parts of the building are dedicated to the various manufacturing activities required to make our interiors. Consistent with our environment, we use traditional  production techniques, but apply modern lean manufacturing principles.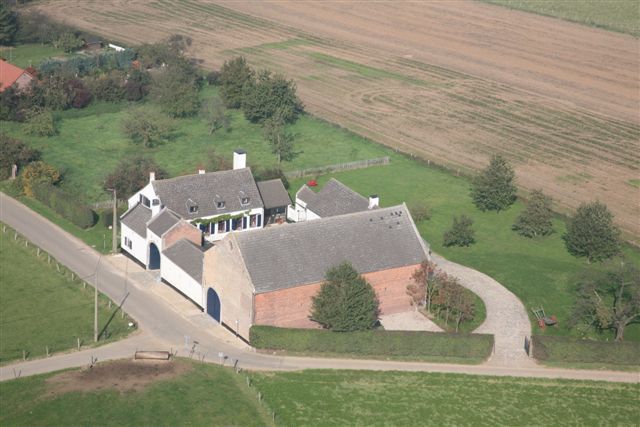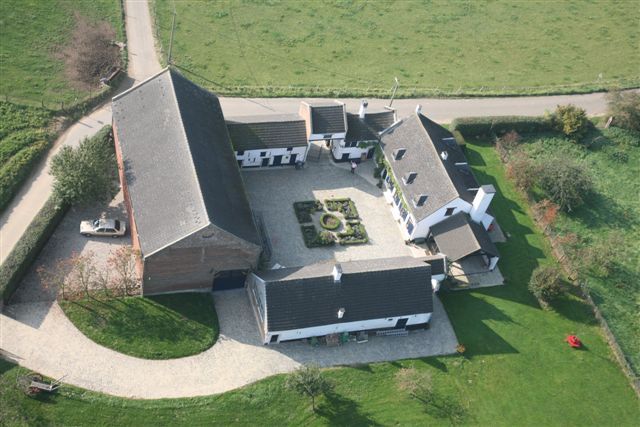 At the age of 10, Wouter would join his father Maurice every Saturday to look at the progress on the restoration of a Citroën DS23 Pallas. The car was tucked away in a Citroën dealership. The dust, the smell and technobabble made a lasting impression.
A few years later, at the age of 15, Wouter bought an old Citroen 2CV with money he saved up from washing cars. Without a driver's license, he begged his mom to drive the car home; on flat tires, without insurance and without MoT. His mom ever supportive. 3 months later he had turned this tired duckling into a beautiful swan.
Jumped head first and completely underequipped into a ground-up restoration of a VW Beetle Cabriolet. After friends lost interest in the project, this became a 2000 hour lesson in perseverance.  In the years thereafter several projects would follow including mostly Porsche and Jaguar cars but also the odd BMW, TVR and Ferrari.
Driven by the patchy availability of high quality interior parts, a move was made to start producing a small selection of interior components.
In true start-up style, initially this work was done out of the home garage. As the manufacturing capabilities grew, so did the demand from fellow restoration enthusiasts and professionals. Our first employee, Robin was hired.
The acquisition of a beautiful landmark farm house in 2003 permitted to step change activities and further expand the product portfolio; from selected products for English and German cars towards complete interiors for several of the world's greatest collector cars.
Launch of the Lakewell.com website and development of a reseller network. This was a big step up from selling through eBay and word of mouth. We currently sell our products directly to private and professional restorers and through a network of distributors worldwide.
Before 3D printing became mainstream, our team experimented with additive manufacturing as a potential solution for manufacturing spare parts in small series. This broadened the product portfolio into hard-to-find plastic, rubber and alloy parts.
Together with his son Sebastian, the effort was made to digitize our collection of more than 1000 hardboard patterns. This enabled the move from manual to automated cutting which means higher-quality work for our craftsmen, higher precision and less waste.
Lakewell moves into the south wing of the Castle of Veulen, after 4 years of restoration. This unique heritage site offers room for further growth and is the perfect setting for the ultimate experience in classic car events.
More information on the Castle of Veulen.
Quality is one of our core values and we strongly believe it is the only path to sustainable customer satisfaction. To achieve this we have committed ourselves to the following:
Strive to match Original Equipment Manufacturer specifications in all our parts
Provide the best value for the money in our niche
Understand and respond to our customers' needs and expectations
Improve our lean make-to-order manufacturing to generate continuing quality and productivity improvements
Develop factory authentic craftsmanship and motivated craftsman with full accountability and responsibility
Continually improving on all of the above
Please use the navigation area on the left to find out more about the materials we use, the colors we offer and our satisfaction guarantee.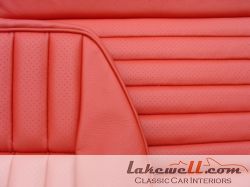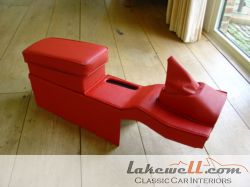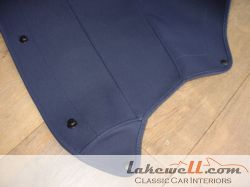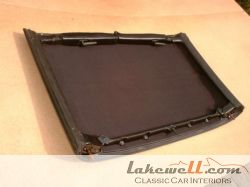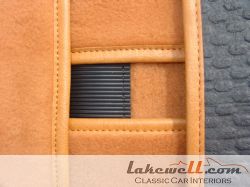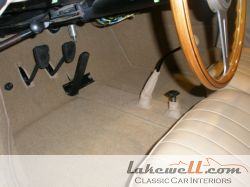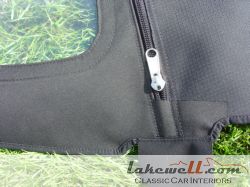 Our mission is to match the Original Equipment Manufacturer specifications in our parts as close as possible. We go to great lengths to source the correct raw materials.
Where we were unable to source the OEM specification material we manufacture the raw material ourselves. Only when this is not possible we work with the best available alternative. Parts that do not meet OEM specification are identified as "functional replacement".
We strongly recommend you request material samples from us and other manufacturers before ordering. This allows you to compare the quality, authenticity and price before ordering. We also recommend comparing the content of our Interior Restoration Kit with others.
We manufacture our interior components in the most common original colors. In the "Products" section you can browse to the list of parts available for your make and model. Each individual item will specify and usually picture the colors in which it can be ordered.
If you are not sure about your color please do not hesitate to request a sample from us. If you are looking for a color not listed in our web shop or a custom color, do not hesitate send us a mail or material sample. We have access to over 800 material references and we love a challenge.
Because we manufacture everything to order we can also make your interior with contrasting piping. This is usually not factory original, but in combination with the color of your bodywork or soft top this can be very stylish and definitely adds that touch of individuality.
What customers say about us

Very knowledgeable and helpful staff Very high quality products, exactly as advertised (bought carpet set and retrim kits for front and rear seats) Happy to recommend and will use them again to complete my restoration.

Good staff and good quality of materials. Hard to tell difference to original biscuit Jag carpet set

Superb job on the restoration of my Porsche 964 interior. The complete interior retrim was done to concourse standards. The bespoke 'Singer style' touches I requested were done very tastefully with and unbelievable eye for detail All I can say is WOW and thank you. Coming from a perfectionist that means something. Cannot wait to do another one.

I've been a Porsche collector for more than 20 years. Lakewell has always been my go-to-place for everything interior. Top-notch craftsmanship and OEM spec materials. Also for hard to find / NLA parts, a real treasure chest. Highly recommended.